Clients - Corporate and Commercial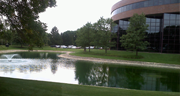 From a large corporate campus to an individual building, Environmental Aquatic Management (EAM) handles all corporate client needs. 
We specialize in accountability to our clients with weekly email reports that include pictures and info on each pond on each site. These reports can be forwarded to clients to keep them up to date on all the management work done on their ponds. 
EAM works with Property Management Companies, Large and small landscaping companies, Realtors, Facility Managers, Property Owner Associations and directly with the corporate client.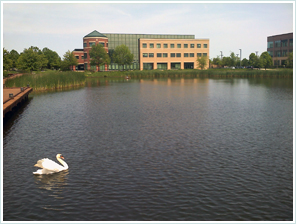 EAM is familiar with the insurance and accountability needs of our corporate clients and carries and extra umbrella policy specifically for these clients. 
With the new EPA permit now in place, we take care of all paperwork, permits, mapping and reporting, eliminating any chance of any EPA violations and possible fines. Copies of all permits, maps, approval letters, and reports are kept with us and copies sent to account managers. 
We offer an excellent list of references and examples of our aquatic management and services. 
A management program will be put in place to keep you pond or ponds looking clean and healthy all season long guaranteed! Weekly visits (26 in total) to the watersheds, with pictures and reports of services, will be emailed to you for the six month management season. If fountains and aeration is in place, we will monitor, test and make sure they stay in good working order all season long. 
We respond to emergency calls within 24 hours. We specialize in fountains for corporate campus ponds and single corporate ponds. We also offer full fountains/aeration sales, storage and repair services.