Clients - Home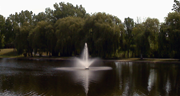 Environmental Aquatic Management (EAM) provides aquatic management services and supplies for a variety of different clients. 
Whether individual homeowner, home owner association, municipal, golf course or corporate management company, EAM will work with you individually to set up a management program for your watershed. 
We understand the accountability managers are under and provide detailed pictures and reports of all the watersheds visited/treated every time. 
The new EPA permit requirements have stopped many landscaping and management companies as well as individuals from treating watersheds over the fear of an EPA violation. EAM can take care of any aquatic management situation immediately without delay and in full compliance. Kevin Dahm (owner/founder) has personally worked with the EPA and the DNR for the past several years defining the new permit process and discussing changes for the industry. 
We will take care of all licenses, insurance, EPA/DNR permits, mapping and paperwork for you. You will receive copies of all documentation for your files. 
With over 20 years of experience, there is no aquatic management situation that we can't handle. If we can provide any further information to you please call or email our office. Advice, information and estimates are always free.