Compressors, Diffusers, Cabinets & Aeration Systems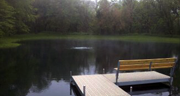 Aeration is the key to a healthy balanced aquatic ecosystem. An aeration system is beneficial for several reasons. 
While aeration by itself cannot prevent weed or algae growth, it does aid in the management and the appearance of the watershed. When the water is moved, stagnation is prevented and if management is added it will speed in the decomposition of material that promotes weed and algae growth. 
Aeration will also keep the oxygen level stable keeping the aquatic ecosystem healthy and balanced. When a system is healthy, fish are healthy and grow at their maximum rate. A balanced system will usually require fewer products to manage the growth.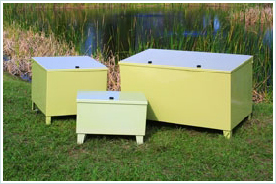 Underwater aeration is the most efficient and economical way to oxygenate your lake or pond. Environmental Aquatic Management (EAM) has been installing aeration systems for 20 years. From a backyard pond, multiple ponds or lakes, we offer complete aeration system design, sales and installation. We can assess your watershed and recommend a system that is custom designed for your specific watersheds needs. 
Not all aeration equipment is the same. EAM offers the best compressors, cabinets and diffusers on the market.
Rotary Vane compressor
(Most efficient and economical)
Diaphragm compressor
(for shallow or small ponds)
Rocking piston compressor
(for deep water or long runs)
Let EAM provide a free estimate on a system or a check-up of your current system to make sure it's running at its peak efficiency. 
EAM also offers replacement compressors, diffusers and cabinets. Not all compressors are the same and different models work better in some situations than others. A compressor will be properly sized or replaced for your individual watershed with a new warranted unit. 
Diffusers have changed greatly in the past few years. Upgrading or purchasing the latest diffusers can increase the efficiency of your system by as much as 33%. 
Give a call for more information on the new Twister underwater lake and pond diffusers. EAM can replace or sell you the latest compressor cabinet. Secure, soundproof and weatherproof cabinets are available to fit your single or multi-compressor system.