Fountains, Aerators, Water movers & Light Kits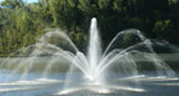 Environmental Aquatic Management (EAM) is a Kasco Fountain Distributor. We offer all sizes of decorative fountains, Aerators and Water Movers. 
We can size up the proper unit for your lake or pond. Not all watersheds have the same needs.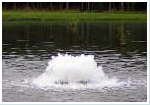 Some watersheds are looking for a decorative fountain and some a simple low key fountain. Some lakes or ponds are in need of surface aeration or water movers to help their management.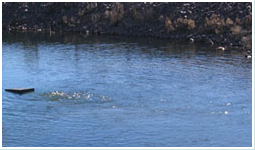 All these different units come in different sizes and horsepower. The decorative fountains come standard with 6 different nozzle patterns. We also offer upgrades to premium nozzle patterns to fit any type of pattern desired.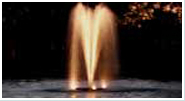 Light kits are available with any fountain order. All the control panels are ready fit for a light kit so one can be added at any time if not ordered with the fountain. Our larger Fountains (2 hp. and up) require 220 volts, while our smaller units (1 hp. and down) can run off 110 volt. All our units come with control panels and a two year warranty. 
Let EAM give you a free consultation and estimate for a floating decorative fountain, aerator or water mover. We can also provide seem less installation from design, electrical supply & connection and full installation. For a complete list of Products and Prices, give us a call in the office or email us. We also sell direct and deliver or offer direct delivery to our clients.