Aquatic Weed & Algae Management Services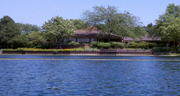 Excessive aquatic weed and algae growth can create an unsightly and unhealthy situation for your lake or pond. 
Unmanaged and mismanaged aquatic ecosystems can lower property values and cost money with no clear goal achieved. Proper aquatic management will increase property value and protect your critical aquatic resource. Your lake or pond is your most important landscape feature and requires specialized, professional services. 
Our Aquatic Weed and Algae treatment services are individually designed for each lake or pond. All our products and treatments are guaranteed. Some watersheds produce a lot of material and require more services than others. 
| | |
| --- | --- |
| | |
| BEFORE | AFTER |
| | |
| | |
From full-time to one-time, Environmental Aquatic Management (EAM) provides weekly, bi-monthy, monthy and on-call guaranteed treatment programs. We will assess the situation and recommend a management program that fits your needs. 
All our products are the best, safest and most ethical in the aquatic market today. EAM has specialized aquatic treatment equipment and techniques. We can access difficult and sensitive areas with a variety of specialized equipment. EAM does not use generics, non-industry supported or non-guaranteed products. 
Your critical aquatic habitat is not the place to use cheap or second rate products or management services. 
With 20+ years of treatment experience and thousands of applications made, there is no aquatic management situation that we haven't seen. EAM will provide the needed information and documentation on all our products and management techniques and services. 
EAM can look over your current management plan and make science based recommendations. Advice, information and Estimates are always free. 
Let the professionals at EAM help you with your Aquatic weed and Algae Management.